Science
Science
15 October 2020 (by admin)
Year 6 Science lesson with Sarum Academy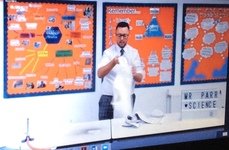 Year 6 had the opportunity to engage in an online Science lesson with Mr Parr from Sarum Academy.
The children investigated how light travels through reflection and absorption.
They were introduced to light by being given an investigation with an aim to escape from a cave using the reflection of the water on the caves to show where they are.