Our Incredible Team!
Our Incredible Team!
19 December 2017 (by admin)
Getting the hall ready...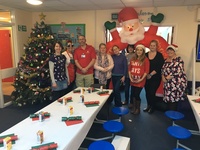 We have an incredible team of midday supervisors/support staff at our school (although not all in for the photo!) who worked so hard to prepare the hall for Christmas lunch day. Thank you to this wonderful group for helping the day run so smoothly!